Order Out of Chaos: Defining a Market Strategy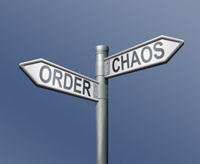 What strategy are you using to promote your business or organization? Do you find yourself overwhelmed by the sheer number of choices - brochures and sales collateral, newsletters and product bulletins, direct mail, e-letters, desktop web site, mobile web site, blogging, Google Places page, search engine optimization, keyword search, content creation, LinkedIn, Facebook, Twitter? Have you been jumping from one method to another based on whatever is getting the most buzz in the business magazines you read?
For most small businesses and organizations, the high cost of publications and broadcast media, as well as their overly broad reach, make them unsuitable as marketing tools. So the foundation of an effective marketing strategy for most businesses and organizations is printed material: sales collateral, newsletters, and direct mail.
Let us help you implement your marketing strategy! For years, we have been helping our customers communicate with their customers to build sales. In the past, we've done this exclusively with print. Now we are prepared to help you integrate print (which we still believe is the foundation of an effective marketing effort) with new media - desktop and mobile websites, QR codes, and opt-in web-based promotions.